CAR-6PT Isolated 6-channel PT100 acquisition module, temperature acquisition module, PT100 transmitter, 6 PT100
Module Features
Platinum RTD input, indexing number Pt100

6-channel input

Constant current output, not be affected by external environment changes

Resolution accuracy of 0.1 degrees

Using DC-CD isolated power mode, the signal acquisition is more stable and higher accuracy.

Acquisition chip uses 24 AD, DA output 8-bit analog conversion
1.1 Module Introduction
CAR series module using RS485 communication port,Based on the standard Modbus protocol, with extensive use of significance. Including the extension of the model input and output modules, analog input module, analog output module, temperature acquisition module. EX Series PLC, MD series of text display, and other related equipment to support Modbus protocol has been widely used in temperature, flow, level, pressure and other process control systems.
1.2 Module Model:
1.3 Module size:
Shape and size of CAR series of modules, please refer to the following chart (unit: mm):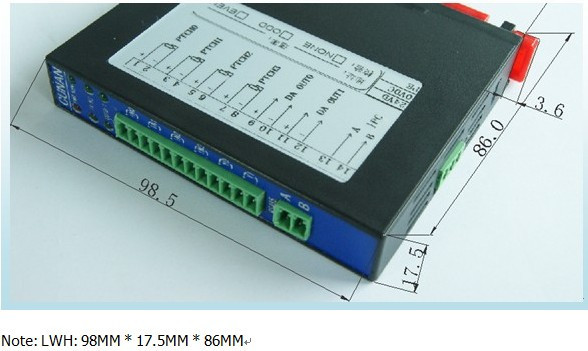 1.4 Full Power Isolation:
CAR Series modules internal system are all isolated. And there are low and high pressure protection. Than the rated voltage, the system automatically power off. 1500V isolation test! Pay more attention to product quality!

Manual download https://drive.google.com/file/d/0B874Xcfb4xksa2l2NW5JODV2Wnc/view?usp=sharing​

CAR-6PT Isolated 6-channel PT100 acquisition module
Brand: LOLLETTE
Product Code: CAR-6PT
Availability: In Stock
Related Products
Tags: Module RS485